[cmsmasters_row data_padding_bottom="50″ data_padding_top="0″ data_bg_color="#ffffff" data_color="default" data_bot_style="default" data_top_style="default" data_width="boxed" data_shortcode_id="jfrsf5aeg"][cmsmasters_column data_width="1/1″ data_shortcode_id="1wtfyygvic" data_bg_color="#ffffff" data_border_style="default" data_animation_delay="0″][cmsmasters_text shortcode_id="1vmv08wjb" animation_delay="0″]
Fraction Collector
Almost unlimited flexibility – opens new possibilities in chromatography and multiple stream sampling.
OMNICOLL Fraction Collector and Sampler
Collects fractions in any racks or recipients of your choice
Collects unlimited number of fractions
The electronics and moving parts are placed above the tubes
– No damage due to spilling
– Can be placed in a cold bath or any other thermo-stabilized container
Fractionation according to time (0.1–999.9 min and 1–9999 min) or volume (0.05–500 ml or 0.1 to 30 l)
Solvent resistant construction
Pause (from 0 to 999.9 min and 1 to 9999 min) or rinsing can be programmed between fractions
Up to 20 fractions simultaneously; multi-channel operation (optional)
Description
Specification
Versatile fraction collector and sampler for chromatographic techniques and automatic liquid dispensing

 Single channel or simultaneous multi-channel fraction collection

 Types of recipients: Micro-well plates to large volume bottles / beakers / vessels / flasks

 Drop counter, TTL signal, free flow or pump controlled flow, cold room / cooling option

 Safe & sterile handling: Easily placed inside fume hood / laminar hood, clean room

 Dimension: 34 (W) x 30 (H) x 49 (D) cm

Type: LAMBDA OMNICOLL – microprocessor-controlled programmable fraction collector – sampler
Collection mode: Linear (line), meander (zigzag) or row collection
Normal modus:
Time: 0.1 to 999.9 minutes (16.67 hours) in 0.1 min steps or 1 to 9999 minutes (166.7 hours) in 1 min steps
Volume: 0.01 to 500 ml or 0.6 to 30 litres (external counts using LAMBDA peristaltic pump)
High modus: Same as Normal modus, but with a pause between fractions (from 0.1 to 999.9 minutes or 1 to 9999 minutes)
Remote control:
Normal modus: Collector takes a single fraction after an external voltage pulse of 3-12 V (or 12-30 V with a 3300 ohm resistor)
High modus: Collector takes a 1 to 999 fractions after a single external voltage pulse of 3-12 V (or 12-30 V with a 3300 ohm resistor)
Capacity: Any tube rack or container type with a surface smaller than 45 x 31cm
Standard racks supplied: 360 tubes of 12-13 mm diameter; 240 tubes of 16 mm diameter; 160 tubes of 20 mm diameter; 96 tubes of 30 mm diameter; The capacity can be increased many times by coupling several lower fraction collector parts together.
Non-volatile memory: Storage of all settings
Interface: RS-232 (optional)
Power supply: 95–240 V/60–50 Hz AC plug-in power supply with DC 9V/12W output; possible field operation on 12 V accumulator
Dimensions: 34 (W) x 30 (H) x 49 (D) cm
Weight: 6.5 Kg
Safety: CE, meets IEC 1010/1 norm for laboratory instruments
Operation temperature : 0-40 °C
Operation humidity: 0-90% RH, not condensing
Remote control: 0-10 V; (option 0-20 or 4-20 mA)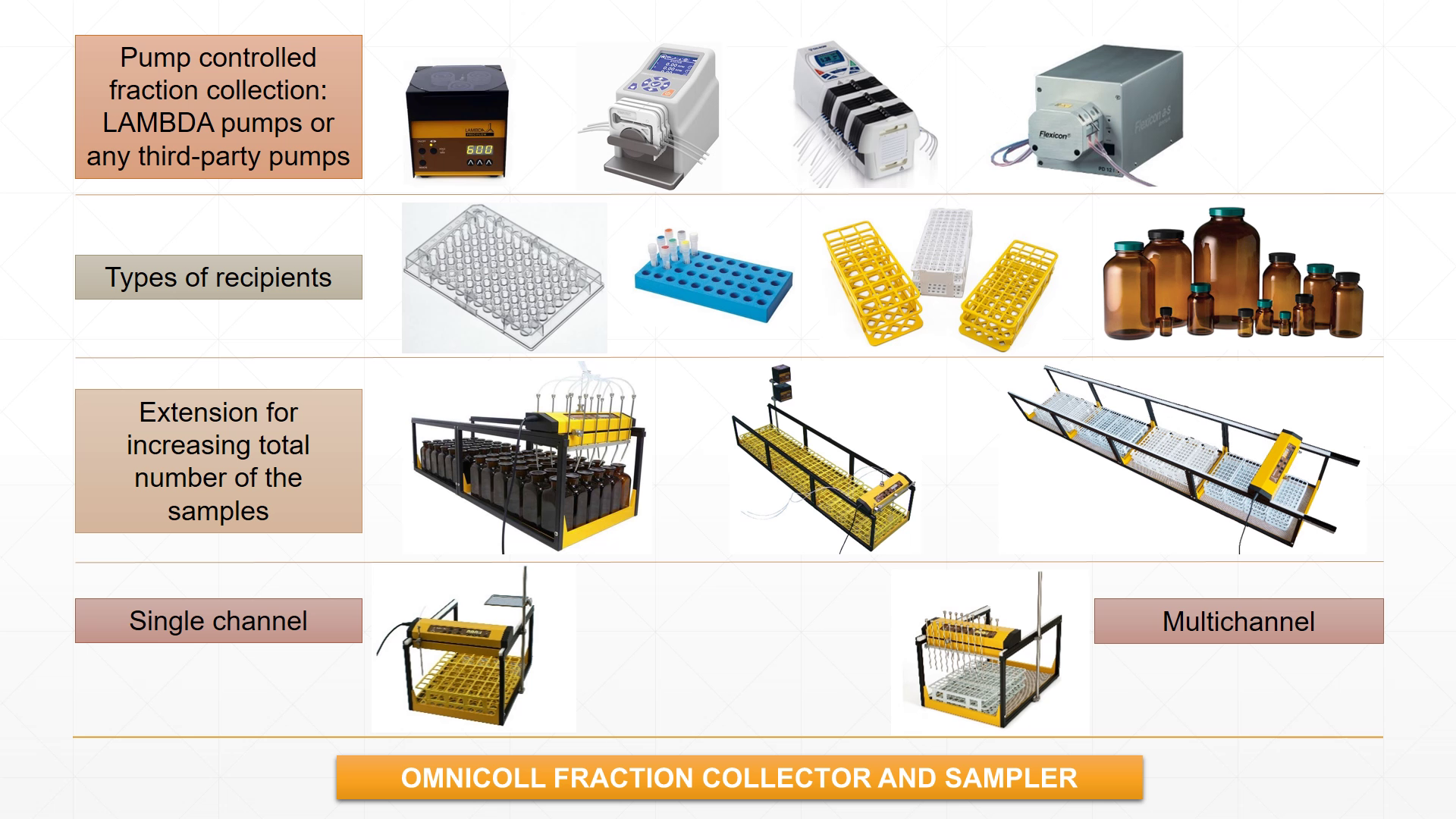 Types of recipients:
OMNICOLL fraction collector can handle nearly all kinds of sampling tubes and laboratory sampling racks or recipients (drops to liters) available on the market.
Micro titre plates, vials, titer tubes, test tubes, Nalgene lab bottles, larger volume bottles, beakers, flasks, etc. can be used with the fraction collector.
No special sampling tubes or test tube racks are needed to collect the fractions.
Single stream or multi-stream collection:
Single stream
Simultaneous multi-stream fractions of up to 20
Example configurations of single channel and multichannel fraction collector could be viewed at www.fractioncollector.info/multi-stream-fraction-collection/.
| | | | | |
| --- | --- | --- | --- | --- |
| OMNICOLL single channel collector |   | OMNICOLL 4-stream fraction collection |   | OMNICOLL 6-channel fraction collector |
| | | | | |
Highly flexible control:
Fraction collection or liquid sampling based on volume / time / drop count / controlled by an external signal.
Easy to program and handle.
Unlimited number of fraction collection
Easy extension of tube capacity by additional supports:
The tube capacity of the LAMBDA OMNICOLL fraction collector and sampler can easily be increased by adding rack supports. Virtually any number of such capacity extensions can be added.
| | |
| --- | --- |
| Extended capacity of 12-channel collector with 250 ml bottles: 2 times (= 72 fractions) | Extended 30 mm tube rack capacity of single channel fraction collector: 3 times (= 288 fractions) |
|   | |
Features of the OMNICOLL fraction collector
The only fraction collector which can be easily programmed for any rack or recipients of your choice
All electronic and mechanical components have been miniaturised and placed in one moving part, which is placed above the fractions. Therefore, there is no danger of spilling.
The lower part of the fraction collector can be placed into a cold bath, ice bath or any other thermo-stabilized container.
Modern microprocessor controlled system using several optical sensors allows for easy programming of the tube positions.
Fraction collection according to time or volume
Fraction collection in lines or meander like (zigzag)
A pause (from 0.1 to 999.9 min and 1 to 9999 min) can be programmed between fractions. Thus, the OMNICOLL fraction collector can be used for taking (single or multiple) samples, e.g. during fermentation processes, cell cultures and other biological or chemical processes.
The pause function can be used also for an automatic start-up of the fraction collection.
Washing of the tubing (line washing) between samples is possible, since the number of fractions in a serie can be chosen.
Auto-stop function switches off the fraction collector and the fractionation after a selected rack or at the end of the range
Pump flow stop function avoids spilling between two consecutive fractions.
Only the liquid transferring tubing is moved instead of the tubes, this requires much less energy and allows the fraction collector to be miniaturized. Additionally, the tubes are easily accessible from all sides.
The lower part of the fraction collector can be used for carrying or storage of fractions. A new plastic fixing mat keeps the racks or recipients in position.
Several lower parts can be combined to increase the fraction collecting capacity of the fraction collector.
Highest user safety has been attained by supplying the OMNICOLL fraction collector with a low voltage plug-in power supply. This allows also an easy field application of the fraction collector (battery operation possible).
Solid metal construction makes the OMNICOLL fraction collector insensitive to solvents.
Can be easily disassembled and requires only little storage space
Low-maintenance construction
Competitive price
Remote control allows sampling after reception of an external signal (such as an alarm). In this way, it is possible to obtain important samples during long processes running even during the absence of a supervisor.
Drop counter, inert valve, RS-232 interface, TTL signal based collection and other accessories are available as an option
[/cmsmasters_text][/cmsmasters_column][/cmsmasters_row]